The Luberon Loop Starter Guide [FREE]
Unsure if hiking The Luberon Loop™ is right for you? Get a taste of the adventure with a free sample of the guidebook — download now!
The Luberon Loop™ is a hiking route in Provence, France that connects fairytale villages, extraordinary restaurants, famed vineyards and ancient sights. The Luberon Loop guidebook details every step of the route with hiking directions and travel information, including the area's best restaurants, hotels and sights.
Every free starter guide includes: 
Elegant Digital Guidebook: 25-page, full-color PDF with route overview & gorgeous photos.
Extensive Planning Info: Learn how to pack, budget, ride public transportation & traverse France's massive trail system.
What is The Luberon Loop?
The Luberon Loop is a multiday village-to-village hike in Provence, France. The easy-to-follow route pierces the Luberon's heartland of hilltop villages, acclaimed wineries, farm-to-table restaurants and stunning natural beauty. Info to whet your walking appetite:
8-12 days and 140 miles / 225 km in total length.
Perfect two-week vacation of food, fresh air and wine.
10 daily stages comprising 5-8 hours of moderate hiking.
Downsize the loop with 2-5 day variations.
No camping gear required! Carry only your clothes, snacks and travel essentials.
Go super slow! Cut every stage in half for a 3-week trip.
Days start and end in cozy medieval villages with hot meals and showers, comfy beds and plenty of local color.
Where is The Luberon Loop?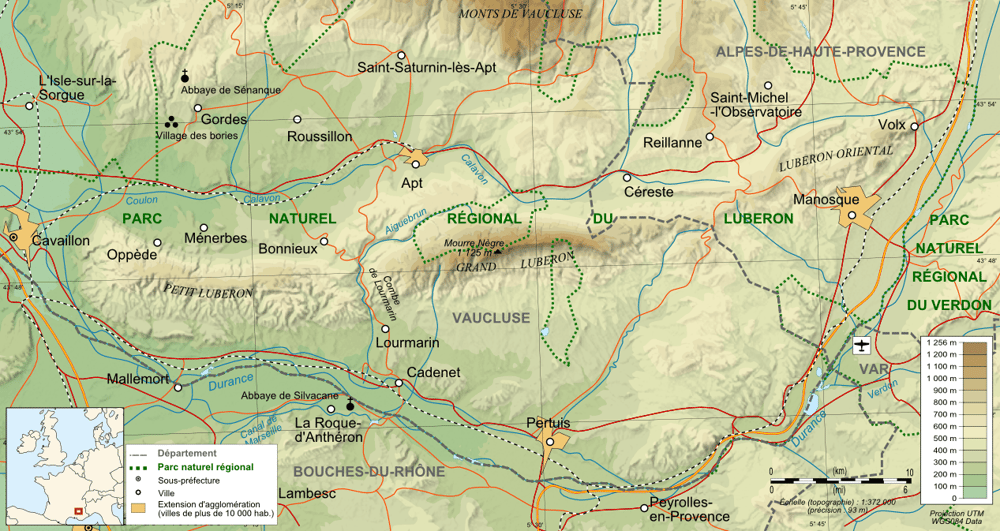 The Luberon Loop traverses the hilly, pastoral Luberon, part of southern France's Provence region. Irrigated by the Durance and Calavon rivers, the Luberon enjoys an arid Mediterranean climate perfect for Spring and Fall hiking trips. Situated east of Avignon and north of Marseille, the Luberon's vast network of footpaths links medieval villages, Roman ruins and silent oak forests.
Scouring 27 "perched villages," sometimes at a clip of over 3/day, The Luberon Loop's overnight stops are: (1) Gordes > (2) St.-Saturnin-les-Apt > (3) Viens > (4) Simiane-la-Rotonde > (5) Banon > (6) Forcalquier > (7) Reillanne > (8) Saignon > (9) Bonnieux > (10) Ménerbes